MBK Public Company Limited operates its business with a strong hold on the Good Corporate Governance guidelines and compliance with the law, business ethics, and corporate conducts together with pursuing good management. It is the Company's important duty to take care of and responsibility for communities, the society, surrounding environment, and involved parties. The Company realizes that promoting and supporting the strengths of the communities and society seriously will result in social and environmental development for holistic sustainability. The Company continuously organizes activities for the communities and the society by applying the company's expertise to economic value creation to the organization and society at the same time. Such action shall be held as the company's practice.
In 2018, MBK Public Company Limited and its subsidiaries mobilize various projects to support the society, the communities, and environment continuously, including both CSR-in-process and CSR-after-process, for the sustainable development in three aspects which the Company has always focused on and executed. They are as follows: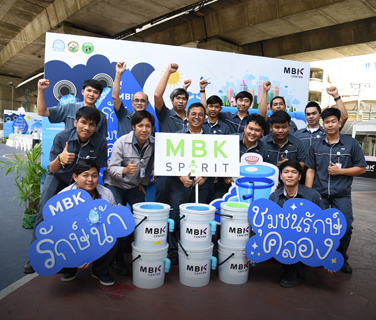 Throughout last year, the Company adhered to the practice of "Thai Organization with Green Heart" that promoted and supported mutual assistance and the use of beneficial knowledge to improve quality of lives of people in the community. The Company provided financial support to the government sector, organizations, and foundations, as well as providing commercial space for students and foundations to organize charitable activities and public services.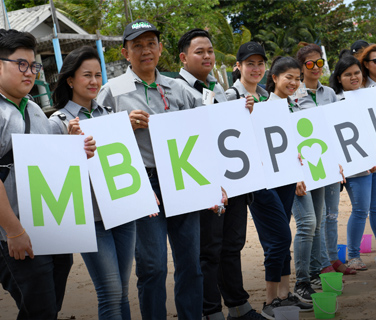 The Company took responsibility for the environment in all internal and external processes through supporting activities that pertained to energy conservation, resource management with value recognition, energy saving and recycling in order to reduce waste caused by the organization and the communities; running a campaign for raising the employees' good awareness of conservation of the environment; organizing an activity to provide knowledge to the communities, new generations, and educational institutions so that they were role models or leaders in creatively coping with environmental problems; and expanding cooperation with alliances in order to maintain a balance between business operations and being environmentally friendly.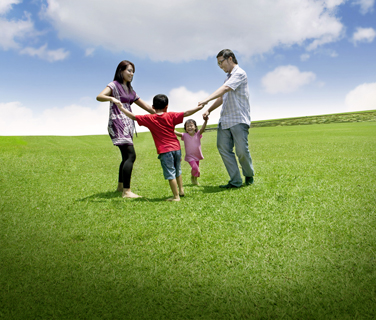 With professionalism in diverse businesses, the Company has potentially run businesses and investment in order to generate returns sustainably. Therefore, it enables the Company to grow continuously and stably. It is also part of creating the society of happiness and sustainably strengthening Thai economy in the long run.
You can have further information about the Sustainable Development Report on the Company's website at www.mbkgroup.co.th